WHAT ARE ONLINE PAID SURVEYS?
Companies want the opinions of consumers on their products and services. They use the views of consumers to improve the product/service. Online Market Research firms conduct surveys on their behalf and find the targeted audience/consumers to take the surveys. The market research firms are free to register and hire a diverse group of panel members to offer their views on products and services of their clients.
HOW MUCH WILL I EARN?
It depends on the number of online survey panels you join. The more panels you join, the more surveys you will get, and the more you will earn. It also depends upon whether you use the products and services that you need to take surveys for, which will determine your eligibility for taking the survey. For example, if you are a parent of child aged below 3, you will be eligible to take a survey regarding baby products.
Here is a list of Popular survey panels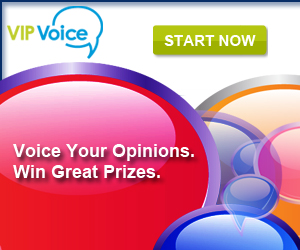 VIP Voice(US)
Share your opinion and get rewarded! VIP Voice is a free to join survey panel for US Residents. Panel members are asked to complete surveys about their purchases and opinions – everything from music and electronics to food and clothing. With every survey they complete, they have the chance to win vacations, electronics, and other great prizes! Join VIP Voice and you'll be entered into a prize draw to win $1000!