Another popular way of earning money online is by affiliate marketing.
What is Affiliate Marketing?
"Affiliate marketing is a business relationship with a merchant or other service provider who allows you to link to that business. When a visitor clicks on the link at the affiliate's website site and subsequently purchases product/service from the merchant, the affiliate receive a commission based on the amount of the sale, a referral fee or a pay-for-click fee"
What are Affiliates?
The affiliate is like a salesperson who drives traffic to a merchant's site.
Who are the merchants?
The merchant is someone who is selling a product, which may be DVDs or e-books or selling services.
Merchant pays commission to the affiliate when the visitor visiting through the affiliate's link completes the desired action (buys the product/service or signs up for something).
Each affiliate is provided with a unique link which helps the merchant track the sale and give commission. This link is different for each affiliate marketer, but points towards the merchant's website (referred to as landing page).
Don't forget to Bookmark us.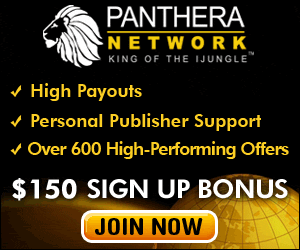 Panthera
Panthera is an online marketing company focused primarily on customer acquisition and pay-for-performance online advertising campaigns. Panthera supports campaigns across all channels through email, display, search, social media, incentive and mobile. They pay on Net 30 basis